Frequently-Asked Questions
Need Help Or Have An Idea To Make Friendly Like Me Better?
Please email us with any questions or problems at: ContactUs@FriendlyLikeMe.com
How Does Friendly Like Me Use My Data?
We do not sell your information to anyone.
'We do not track your activity on any other app or website
The Friendly Like Me app and website are the only sites we track your activity on, and we do it to improve app functionality.
For more information about how we handle your data, please review our Privacy Policy.
How Do Friendly Scores Work?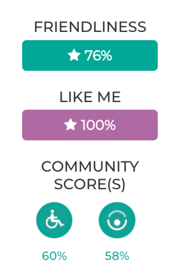 The Friendliness score is mostly determined by the percent of amenities a business has of those that are relevant to that type of business. A couple other factors come into play, such as: has the business been claimed by the owner, and how many times has the business been reviewed.
Like Me scores represent the percent of the amenities selected in your Profile that are provided by that business.
Community scores show how well the business meets the needs of this community. The scores are adjusted by a weighting factor for the relative importance of each amenity to the Community.
How Does Search Work?
Type the business name or other terms into the Search box at the top. Make sure your Location is selected, press Search, and then use the additional filters to refine your search results.
The additional search "Filters" allow you to refine your search by:
Selecting the Business Type and Business Subtype that you're looking for.
Filtering results for businesses friendly to certain Communities.
Choosing Amenities that matter to you.
You can also enter a type of business or restaurant coupled with the phrase "near me" - for example, "pizza near me" or "movie theaters near me". Or you can leave the Search box empty and search for all businesses near your Current Location or the address you enter.
If you don't find a business that you expect to find:
Check the spelling of the business or search term.
Ensure that filters from a previous search have been cleared.
Still can't find what you're looking for, send us a note at: ContactUs@FriendlyLikeMe.com
Please note - not all businesses are shown in Friendly Like Me. We display those businesses that people can choose to frequent based on a business' friendliness. Let us know if you'd like to rate additional types of businesses.
How Can I Review A Business?
Login to your Friendly Like me account.
Find the business using the search bar.
Select Add Review from the search results or after you've clicked on the business name.
Fill out the review form (specifying which amenities the business has) and choose Submit.


How Do I Claim My Business?
Login to your Friendly Like me account.
Find your business using the search bar.
Click on your business name to view details.
Select Claim My Business.
Fill out the claim form and choose Submit. Typically Friendly Like Me will approve your business claim within 48 hours.
Why Does Friendly Ask To Track My Activity?
We do not track your activity on any other app or website, but we do use our website to provide content through the app. Selecting "Allow" to the prompt, helps us improve our app and website's features and usability.
Why Do We Need Your Location?
Your location helps you find friendly businesses near you. Friendly Like Me uses your location only while you use our app. We don't share your location data or search history with anyone.
Do I Have To Sign Up For An Account?
Anyone can use Friendly Like Me as a guest to look up a place's friendliness. But you must have a Friendly Like Me account to submit a review, view your Like Me score, or claim a business.
Where Is My Verification Code?
The verification code is emailed to you to ensure that email address is yours. If you don't see the email right away check your Spam folder.
Can I Use Facebook, Apple, Or Google To Sign In?
Yes, but we recommend you use only one of the three platforms to sign into Friendly Like Me. Otherwise, you'll create multiple, separate Friendly Like Me accounts if you use different email addresses on those three platforms.
Why Should I Complete A Profile?
Build a profile to more easily find places with your preferred amenities, and see your Like Me scores on the businesses you view. Your profile cannot be viewed by other users, except for your display name and your photo.
How can I make my business more Friendly?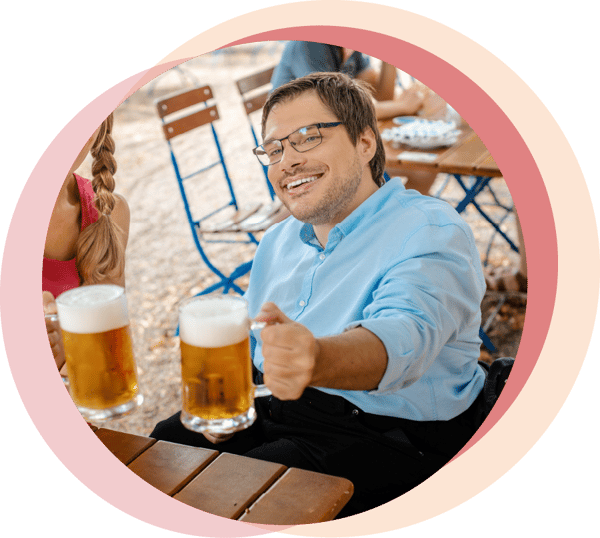 Provide a variety of seating options, including some chairs with no arms

Ensure information about parking and accessibility is clear to patrons

Train your staff to recognize when someone needs accommodation and to respond without judgment

Set aside 1-2 spaces for people in wheelchairs or that need more room.

Ensure aisles are unobstructed and roomy enough to travel smoothly between tables

Ensure bathrooms are accessible from the main floor

Join the Movement!
Help us create more "friendly" places by sharing your experience. Add your voice to our community conversations, and support businesses that make fit and accessibility a priority.