Frequently Asked Questions

How Do Friendly LIKE ME Scores Work?
It begins...as it should, with you.
Use

LIKE ME

score

to know how well

a place meets

your specific access needs

.

TAKE CONTROL

of this score to suit your needs by choosing the specific amenities you (and everyone going with you) need for access and comfort.

Check

COMMUNITY SCORES

to see how well a place can accommodate the needs of one or more of our Communities with their amenities, service, and ability to make accommodations.
FRIENDLINESS SCORE indicates how well a business can accommodate our many communities and how willing and prepared they are to make accommodations on the fly--because this often makes all the difference.
Need Help Or Have Ideas To Make Friendly Like Me Better?
Please send us an email with your questions, suggestions, or problems. We want to hear from you.
How Does Friendly Like Me Use My Data?
We do not sell your information to anyone. We do not track your activity on any other app or website except the Friendly Like Me app. We do this to improve application functionality and improve your experience.
For more information about how we handle your data, please review our Privacy Policy.
How Does Search Work?
Consider two things when you search.
What do you want and where is it?
If you know the name

of the place,

type in the Search field, and choose a Location to establish the range for your search.
Or,

search generally for places near you

with phrases such as,

"restaurants near me,"

or

"museums near me"

. Make sure your location is turned on, or enter a location and select a search range. Searches default to "within 40 miles."
Refine your search with Filters
Filter by the type of business you want to find.
Filter by Friendliness to discover reviewed places Friendly to our Communities
Filter by Amenities to discover reviewed places with the specific accommodations you need.
Search Tools
View your search results on a Map or as a list. Toggle between Map and List at the top right of your search results.
The filters and search terms you have applied to your results are displayed above your results. Remove any filter by closing it.
"Reset" clears filters and search terms.
Helpful Hints
A favorite search by our users is

"bars near me" with a sort by Friendliness

. This shows reviewed bars around you with the Friendliest bars listed first.
Another favorite is,

"doctors near me" sorted by the Amenity you need

, such as "blood pressure cuff for larger arms," or "has a hoyer lift."
What If I Can't Find A Business I Want to See or Review?
Does it have a physical location? We display those businesses that people can choose to frequent based on their accessibility. Let us know if you'd like to rate additional kinds of businesses.
Has it recently moved or changed its name? Try using the address in the Location field and leaving the search field blank to see what our system thinks is there. Help keep our information up-to-date by submitting a change request here.
Still can't find it? Tell us about the place you want to add and we'll make it happen!
How Do I Claim My Business?
Login to your Friendly Like me account.
Find your business using the search bar.
Click on your business name to view details.
Select Claim My Business.
Fill out the claim form and choose Submit. Typically Friendly Like Me will approve your business claim within 48 hours.
Why Does Friendly Ask To Track My Activity?
We do not track your activity on any other app or website, but we do use our website to provide content through the app. Selecting "Allow" to the prompt, helps us improve our app and website's features and usability.
Why Do We Need Your Location?
Your location helps you find friendly businesses near you. Friendly Like Me uses your location only while you use our app. We don't share your location data or search history with anyone.
Do I Have To Sign Up For An Account?
Anyone can use Friendly Like Me as a guest to look up a place's friendliness. But you must have a Friendly Like Me account to submit a review, view your Like Me score, or claim a business.
Where Is My Verification Code?
The verification code is emailed to you to ensure that email address is yours. If you don't see the email right away check your Spam folder.
Can I Use Facebook, Apple, Or Google To Sign In?
Yes, but we recommend you use only one of the three platforms to sign into Friendly Like Me. Otherwise, you'll create multiple, separate Friendly Like Me accounts if you use different email addresses on those three platforms.
Why Do I Need a Profile?
Build a profile to more easily find places with your preferred amenities, and to activate your LIKE ME score. Your profile selections cannot be viewed by other users. The only information that is visible to other Friendly Like Me users is your display name and your photo.
How can I make my business more Friendly?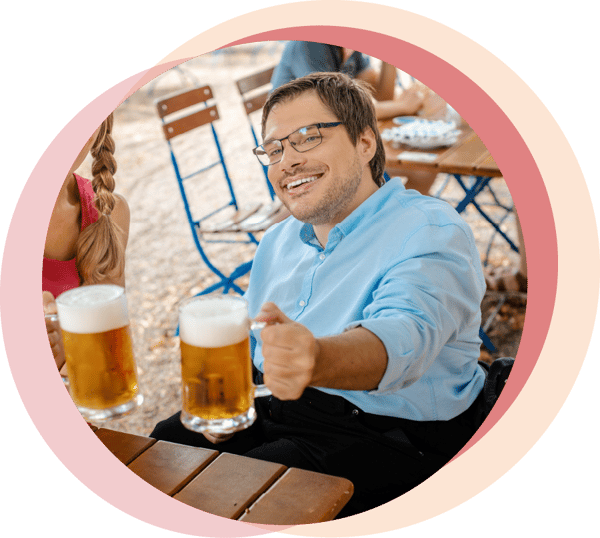 First, claim your listing to tell potential customers how you can and cannot accommodate them. (It's Friendly to let people know in advance.)

Provide a variety of seating options, including some chairs with no arms.

Ensure information about parking and accessibility is available to patrons.

Train your staff to recognize when someone needs accommodation and to respond resourcefully.

Set aside 1-2 spaces for people in wheelchairs or that need more room. Make these spaces available in advance by reservation, and provide details in your business claim.

Ensure aisles are unobstructed and roomy enough to travel smoothly between tables

Ensure bathrooms are accessible from the main floor

Tell people which areas of your business are inaccessible so they can make informed decisions.

Consider Accessibility in your space planning and disaster recovery planning.

Use clear signage to help people navigate.

Provide an accessible website.

Ask disabled people to give you feedback on your space.