Atlanta Pride is one of the largest Pride Festivals in the Southeast, with over 300,000+ festival attendees over the weekend and over 100,000 spectators for the parade along the streets of Midtown Atlanta and into Piedmont Park.
Friendly Like Me was honored to work with Atlanta Pride's Director of Equity and Engagement, Steven Igarashi-Ball, on an official Accessibility Guide for the Festival and for businesses and public spaces along the Parade route and Festival grounds. On the Atlanta Pride Committee's commitment to accessibility for the Festival Igarashi-Ball says: "Pride is for everyone, and we want to make sure that our whole community feels that message. Each year we put great thought into how we can make the festival more accessible and enjoyable, and this Accessibility Guide is just one more step toward that goal. We hope that all of our guests will feel seen and heard, and we are taking every step we can to help them "show up and show out"' as their fullest, most authentic self."
Scroll and explore below to ensure everyone in your party can enjoy the fun!
---
Accessibility at Atlanta Pride
THE PARADE
The Atlanta Pride Parade, steps off Sunday, October 15th at 12 noon from the Atlanta Civic Center MARTA Station and continues down Peachtree Street. The parade will turn right onto 10th Street and end near the Charles Allen Gates to Piedmont Park.
IDENTIFYING HELPERS
Volunteers wear colored shirts with their roles written on the back.
VOLUNTEER: Yellow shirts
LEAD VOLUNTEER: Blue shirts
EVENT STAFF: Black shirts
SECURITY: Chartreuse shirts
MARKET: Red shirts
INFORMATION: Pink shirts

ASL

INTERPRETERS - Featured on the Coca-Cola Main Stage (and available by request)
IN CASE OF EMERGENCY
If there is a health or safety need contact the nearest volunteer. They can connect you with a police officer or member of our EMS team with Grady Health System. The festival will have a 911 operations unit on-site. Grady Health System will assess medical situations and provide care or call for an ambulance.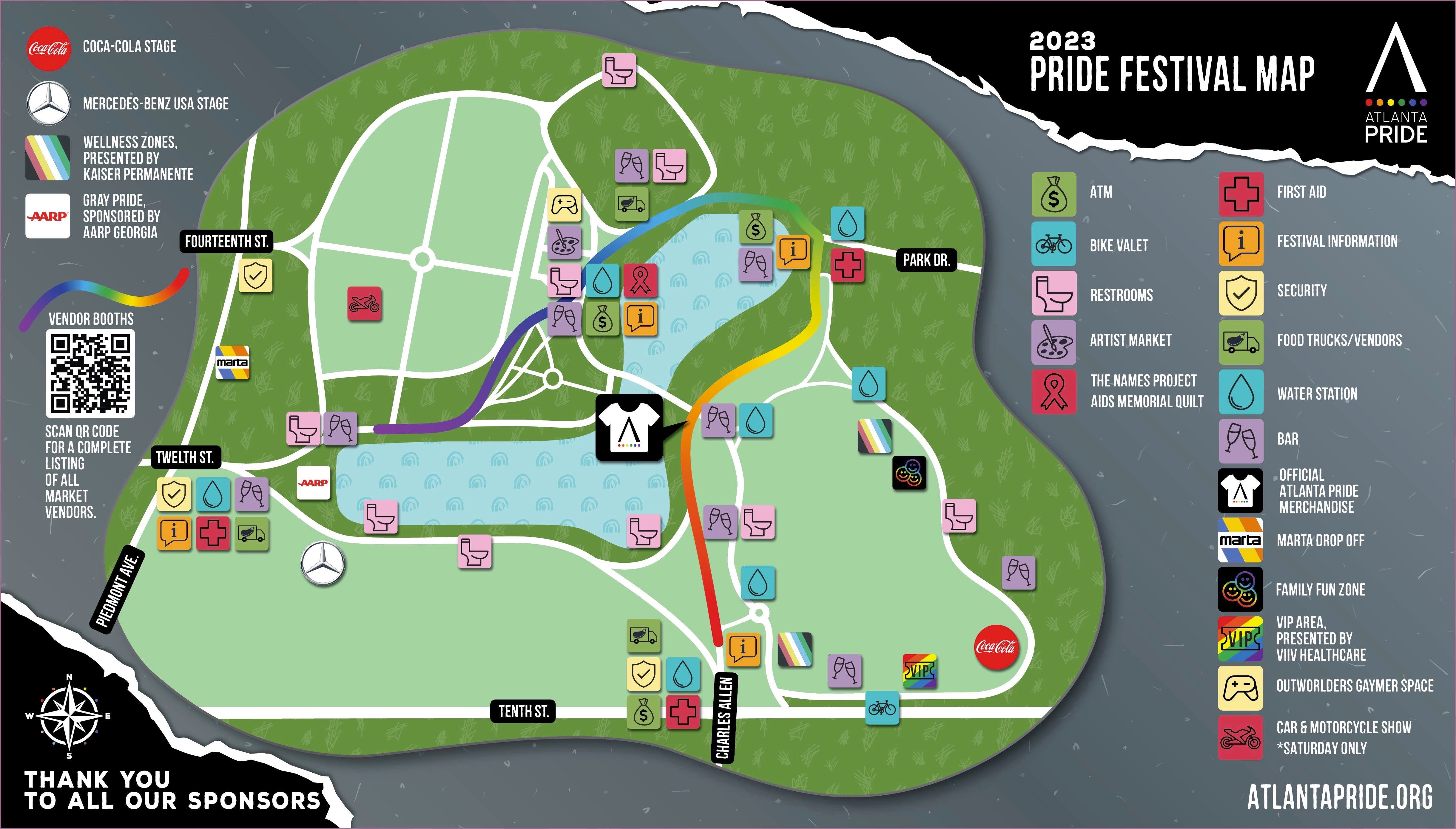 ACCESSIBLE BATHROOMS
Every bank of restrooms (port-a-potties noted on the map) will have at least one ADA restroom.
ADA VIEWING AREAS
There are ADA Viewing areas at the front of the Coca-Cola Main Stage and Mercedes-Benz USA Stage. The ADA Main Stage is covered and there are hard rubber mats in routes where there are not paved walkways. There is ASL Interpretation on the Main Stage and there are floating ASL Interpreters available for the Mercedes-Benz USA Stage as well.
ACCESSIBLE PATH TO MAIN STAGE VIEWING AREA
From the entrance of Charles Allen, take the path immediately on your right down to the Meadow. It will lead directly down to the ADA viewing area, just after the VIP section.
WATER STATIONS
There are 6 water stations located in the park, including by the 12th street entrance, and 3 around the meadow. Along the parade route many businesses and churches offer water to parade participants and spectators.
CHARGING AREA
Attendees can recharge their mobility scooters at an outlet within the ADA section in front of the Coca-Cola Stage (mainstage), as well as inside the wellness tents.
SERVICE ANIMALS
Only service animals are allowed in the park, and we ask that able owners please clean up after them. There is a dog park at the north end of the park. It is closest to the Park Drive entrance of the park. It is most easily accessible from the parking deck off of Monroe.
QUESTIONS & RESERVING ADA AREAS
Attendees with questions in advance of the Atlanta Pride Festival, or those who want to request access to Accessible Areas, are invited to contact info@atlantapride.org.
PRIDE FESTIVAL SCHEDULE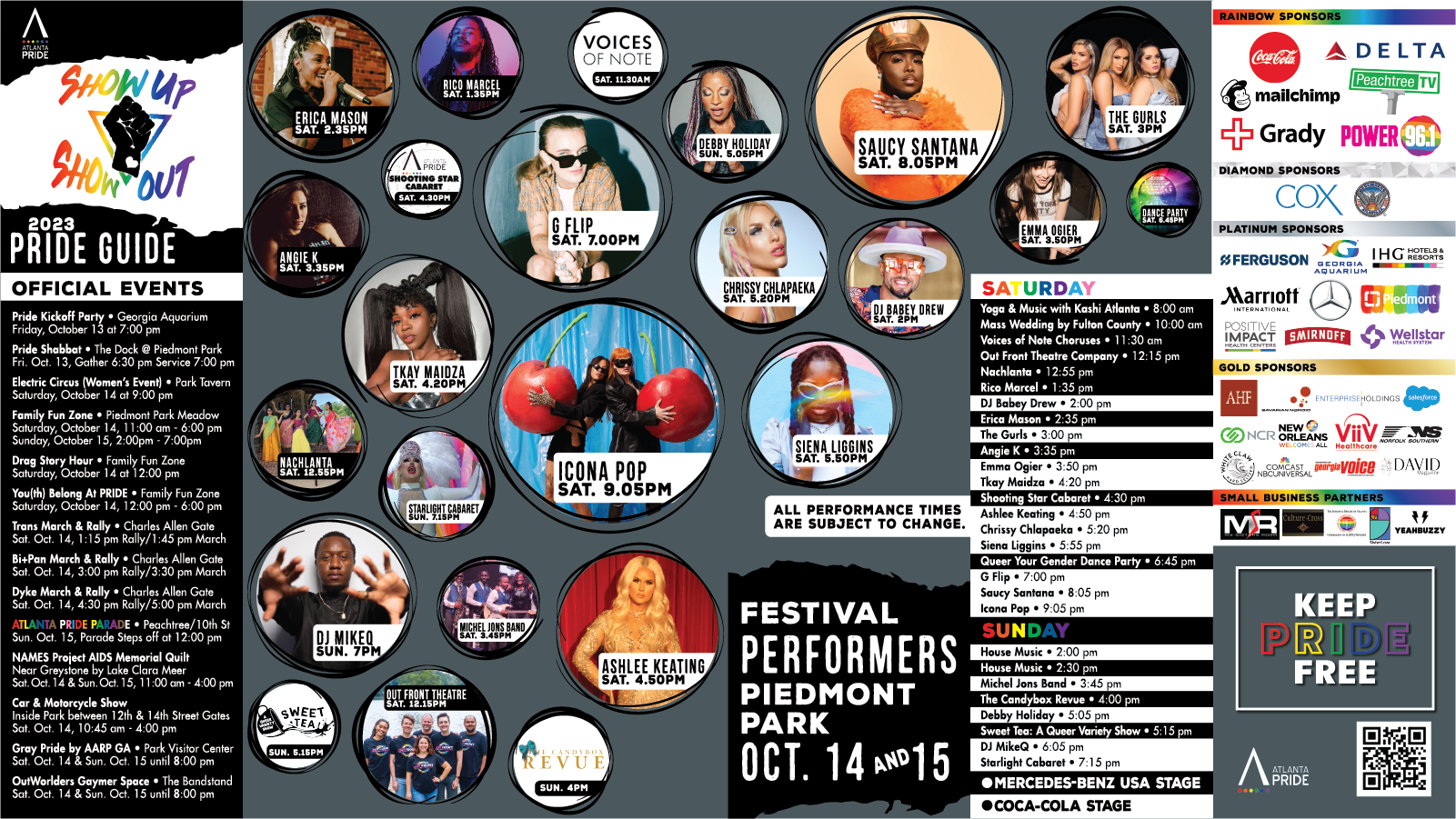 ---
Accessibility in and around Atlanta Pride Festival areas